BHAWANA SOMAAYA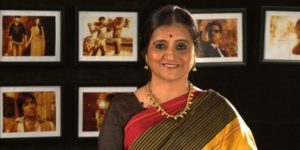 Bhawana Somaaya has been a film critic for over 30 years and has contributed columns to various publications.
She is the former editor of Screen and has authored 12 books on cinema that includes biographies of Hema Malini and Amitabh Bachchan. Amitabh Lexicon /2012 is her third on Bachchan after The Legend /1999 and Bachchanalia /2009.
Her book on Krishna: God who lived as Man is a best seller and her cinema books are a point of reference for students studying cinema at Whistling Woods and Manipal University.She has served on Advisory Panel of Censor Board of Film Certification in India and contributes weekly column to The Hans India, Hyderabad.Bhawana is currently the Entertainment Editor at 92.7 BigFM. Talking Cinema by Harper Collins is her last book release.